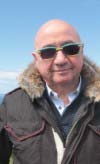 Roberto Faelli now CEO of the Group, among other creative positions in the Company, was also the Financial Director for overseas operations. Roberto is designing and following the creative and technical side of most of the projects Hipret has been awarded with. His philosophy, while designing, is first of all to give a totally original and bespoke aspect to each project taking care of the Client's needs and taste. The challenge is to give always something new, to study and use new materials and last, but not least, to deliver everything technologically belonging to the high end segment. Everything is bespoke: from the lift, to the very sophisticated HVAC and lighting system, the size, material and shape of the wood flooring, everything in the rooms, in the bathrooms. The table bases are all custom made, the wall covering, tiles mosaics are designed in collaboration with the main manufacturers. In a recent project he has designed some very impressive pendants composed by specially made Murano Glass painted tubes. In his mind, everything must be excellent, high end, unique but always within the budget agreed with the Client.
His past experiences:
He started working for a major Italian construction company specialized in prefabricated buildings in the civil and industrial field, and in the construction of highways.
He has been chief of the building yard for the construction of the highway linking Parma to La Spezia
After this experience he was nominated director of the installation of prefabricated building units
He became responsible for quality and prototypes inspection; in particular he followed the research to patent a building system for prefabricated housing projects and a new system of prefabricated reservoirs for pollution plants.
He followed the industrial accounts auditing
He became responsible for new prefabricated products
Sales Manager
Marketing Director
Director of the Legal Department
Deputy General Manager
In 1979 he has been engaged by Anonima Castelli S.p.A. that, at the time, was the third Company in the world for wood office furniture .
He started as vice Marketing Director for the Middle East market
He became Marketing Director for the contract section
During this period the Company signed several turnkey contracts; the most important were:
Amman Parliament House
Saddam Hussein International Airport
Lebanese Parliament House
Damascus Tichrine Hospital
Lebanese Post Office Building in Beirut
The Iraqi Ministry of Planning
State Organisation for Theatres and Cinemas (Iraq)
Iraqi Security Headquarters
Iraqi Fashion House
State Construction Co. Head quarter Baghdad
Ministry of Defence Baghdad
Afterwards he has also followed the market co-ordination among 27 different companies being part of the same industrial group
He has been Marketing Director of:
Ceci Group (constructions)
Industrie Secco S.p.A. (Steel and aluminium windows and facades)
O.C.M. VALMA S.p.A. (steel and aluminium windows and facades)
During the 90's he represented abroad and overall in Germany the following Italian construction companies
Gamont,
Iter,
Cir,
Sigla
In one-year period he gave his commercial cooperation to sign contracts for a total value of 286 million German Marks with the following clients:
Walter Bau,
Hochtief,
Bilfinger & Berger,
Philipp Holzmann
With Hipret SAM founded in the Principality of Monaco he made the following studies for the development of areas situated in the south of Italy:
Progetto 2000
Construction of a tourist village composed of
A 214 rooms 4 stars hotel
Small villas for a total of 6.000 bed places
One shopping center
One 2.400 seats Theater to be utilised also as conference center and auditorium
One 3.000 places discotheque
One sports center complete with swimming pools, tennis courts, polo pitch etc.
One golf club complete with a 27 holes green
One tourist harbour for 200 boats
For a total value of 574 billion Italian lira (296,500,000. = €)
Manfredonia Tourist Hotel
Again in the south of Italy he has researched a smaller tourist intervention for a total of 1.500 beds. The project involved an investment of 120 billion liras (62,000,000. = €)
With the same company he has followed:
Real estate activity;
Financial activity.
Now in parallel with his engagements, Roberto is mostly managing the creative and technical side of Hipret activity and his work has been widely appreciated by the Clients.